Association News
Below is a link to the December issue of Jetsam, CaNSCC's quarterly newsletter.
As part of CaNSCC's governance, an annual Action Plan is prepared to support the Strategic Plan 2014-16. A report is prepared to gauge our success in meeting our annual goals. The 2016 Report Card can be found at action-plan-2016-_report-card.
Jodie Curran from Agent 4573 showcased Coolum and North Shore Coast Care's activities on a recent segment for her "4573tv". Check it out… and check out our lovely Yaroomba Beach in the background!
In support of Coolum and North Shore Coast Care's successful nomination for the 2016 National Landcare Award for Coastcare, members Diane and Birte produced this video, showing where we work and what we do. Enjoy!
Coolum and North Shore Coast Care has a limited number of gift packs for sale. They make great Christmas gifts and all funds raised support our coast care activities. The  stainless steel water bottles with our logo on both sides hold 500ml, while the calendar features stunning photos donated by our local photographers. The calico wine bag holds two wine bottles and comes with its very own 'turtle' tag.
If you'd like to purchase a pack, please email coolumcoastcaremerchandise@gmail.com and we will contact you to arrange payment (via PayPal or direct credit) and delivery (within Australia only).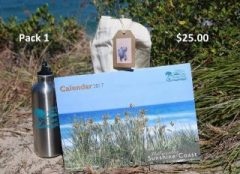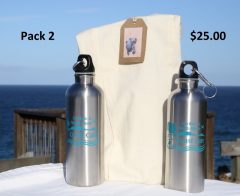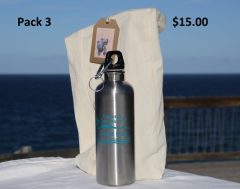 The CaNSCC 2017 Calendar was launched at Mitre 10, William Street Coolum Beach on Saturday morning 1 October. Copies have now been distributed to our wonderful sales outlets listed below. (Please note unfortunately  calendars will not be available at Good Harvest Marcoola until further notice, due to a fire. If anyone wishes to help the owners recover, donations can be made through https://www.gofundme.com/8m-support-good-harvest )