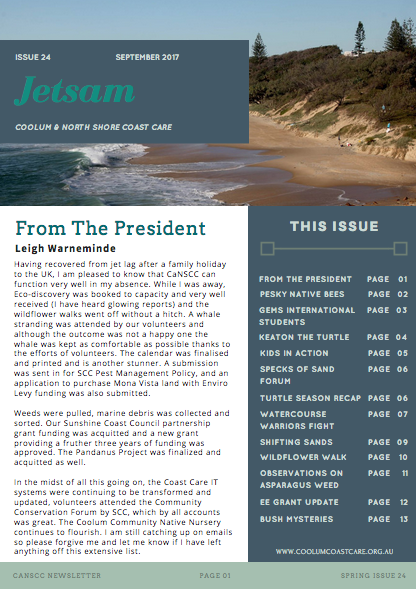 We have just released the latest edition of the Coolum & North Shore Coast Care newsletter. This issue contains updates on events, activities and observations by our volunteers during their work on our Coast. We hope you enjoy this Spring Edition, which will also be posted shortly on our Website and a link to our Facebook page as well.
You may notice that our newsletter has a new look. While this may not be the 'definitive' look, it is a glimpse into designs to come. We hope that you like the results and please let us know what you think. If there are any features, feedback (positive and/or constructive) or suggestions on things in the newsletter or things you would like to see, please send your comments to info@coolumcoastcare.org.au.
And as always, please feel free to send in contributions for our next Newsletter. The next edition will be our Summer Edition coming out in December. Submissions for content are due by the 01 December. If you have attended a Coast Care event or relevant environmental function, have a great picture or story of the Coast, or have musings or something else to share, send them in to us at info@coolumcoastcare.org.au and you might see your article in our next edition!
Enjoy!