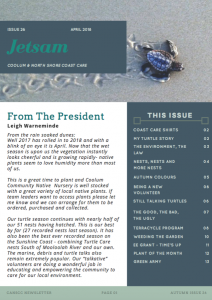 The 2018 Autumn Edition Coolum & North Shore Coast Care 's quarterly newsletter is out now! There has been a whole lot going on with Turtles over the last few months with Coast Care having the busiest turtle season on record and the newsletter reflects as much. Additionally, there are great articles on the environment, a new recycling program, a fantastic photo series and more!
Thanks once again to all our amazing volunteers and contributors to the newsletter that give significant amounts of their time and effort on our dunes, beaches and natural areas continuing the protection of our local environment. If there are any features, feedback (positive and/or constructive), suggestions or things you would like to see in the next edition, please send your comments to info@coolumcoastcare.org.au.
And as always, we are always looking for contributions to our next Newsletter. The next edition will be our Winter Edition coming out around June-July. Submissions for content are due by the 15 June. If you have attended a Coast Care event or relevant environmental function, have a great picture or story of the Coast, or have musings or something else to share, send them in to us at info@coolumcoastcare.org.au and you might see your article in our next edition!
Enjoy!