2018 has been the biggest season of nesting turtles by far since Coolum & North shore Coast Care commenced turtle monitoring in 2007. This year, our volunteers monitored 51 nests extending from Alexandra Headlands (SCC) to Alexandria Bay (NSC). Ten unsuccessful nesting events (turnarounds) were also recorded. Turtle nesting numbers surpassed the previous record of 28 nests in the 2016/17 turtle season.
This season we had 21 active Coast Care volunteers, approximately 25-30 regular beach walkers and we logged over 1,100 volunteer hours for 2017/2018. Of the 51 nests recorded, 48 were Loggerhead turtles (Caretta caretta) The other 3 nests were Green turtles (Chelonia mydas). The CaNSCC volunteer team also managed to tag one green turtle at Peregian Beach, which was nesting at dawn so hopefully we will see her back in future years.
Beach walking to identify turtle tracks/nests commenced on 04 November 2017, and concluded on 14 March 2018, with our last data collection dig on 13 May 2018.
The first marine turtle nest was laid on 13 November 2017 at North Marcus, and was followed by two "turnarounds" (unsuccessful laying efforts). The next successful turtle nesting was laid on 01 December 2017. The last nest laying observed occurred on 20 February 2018 at South Sunshine Beach, with those hatchlings finally emerging in early May. As everyone involved agrees...it was a long and busy season.
Many marine turtles chose to nest on the darker beaches of Marcus Beach, South Peregian-Coolum Environment Park and Yaroomba. Research shows that marine turtles locate their nesting site while out at sea when approaching the beach. The ambient glow over, and the direct light onto, some of our beaches due to building heights and density and associated infrastructure consistently deters nesting turtles. This behaviour can be clearly seen in the 2018 map of the Marcoola area. There  has never been a successful nesting in front of the ocean-front high rise buildings in Marcoola since we started monitoring.
During the 2017/2018 season there were three nests located between Maroochydore and Alexandra Headlands. The first of these three turtle nests was laid during the day. All three nests were relocated to darker beaches when it was considered safe to do so. Two of the nests were relocated to Yaroomba, north of beach access 89 which was reported to be the darkest beach within the Sunshine Coast LGA in a 2017 benchmark survey commissioned by Sunshine Coast and Moreton Bay Councils. The Sunshine Coast Council Turtle Care team relocated the third nest to Buddina Beach. If left in-situ, the turtle hatchlings would have navigated towards the brightest horizon, which is landward at Maroochydore to Alexandra Headland.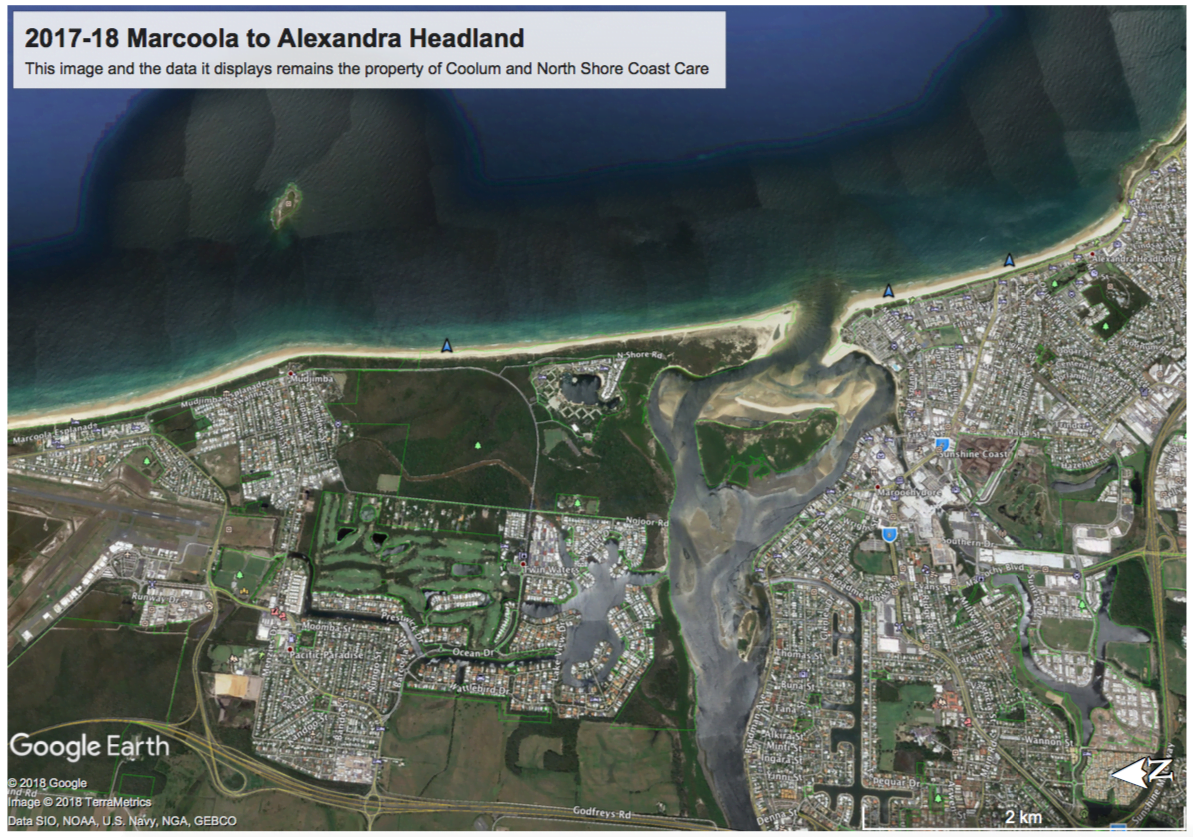 This season, several nests were also identified to have fox activity around the site. Measures were undertaken to discourage the fox from predating the eggs and hatchlings. Methods including meshing and flagging proved successful. One nest required caging nightly due to a persistently inquisitive fox. The cage was removed at first light, which was labour intensive. The local residents at Peregian Beach were of great assistance by checking the nest at 11 pm and 2 am each night.
This season's nest emergences had success rate above 85%, which equates to over 5,450 hatchlings making it to the ocean. Thirty-six of the 51 nests were relocated due to king tides and big swell, erosion, and light issues. While every effort is made to not disturb or relocate nests unnecessarily, these relocations resulted in much greater success rates.
The Coolum and North Shore Coast Care turtle volunteers could not protect or collect the data on nests and strandings without the amazing extended team of dedicated beach walkers and community members.  We are proud to provide this significant contribution to the Sunshine Coast environment and grateful for the training and support we receive by the Queensland Turtle Research Conservation Project and the working relationships we maintain with Turtle Care.