COMMUNITY INFORMATION SESSION ON THE FUTURE OF "YAROOMBA BEACH"
Wednesday 15 November 2017
Come along to an information night where local Community Organisations will help inform the community about how the Sekisui "Yaroomba Beach" development will affect the area under the current development proposal…and what you can do about it.
AGENDA
1. Sunshine Coast Environment Council
2. Development Watch on 2014 Planning Scheme, what Sekisui really want to do to Yaroomba and the conflicts with the Scheme
3. Coast Care on Threat to Endangered Species "Sea Turtles"
4. Development Watch Superior Outcome for Tourism, the Environment and the Community
Wrap Up. Sunshine Coast Environment Council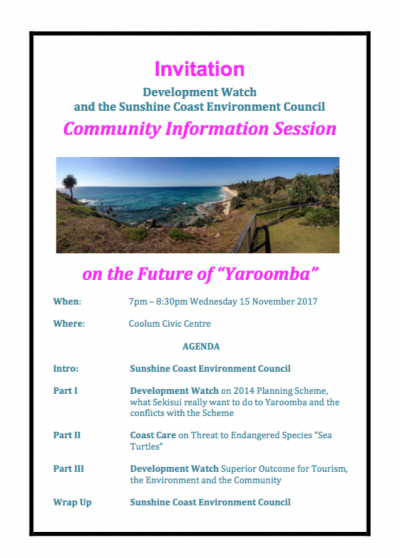 MARINE TURTLE WORKSHOP

Tuesday 28th November
Did you know that marine turtles visit our beaches every summer to nest? Do you walk your local beach regularly?

Come and learn about Turtle tracks, Turtle nests, Hatchlings and Strandings, from the Turtle team at Coolum & North Shore Coast Care.

6:30 pm in the Ross Bartlett Room.
Tea and Coffee provided.